One of the basic questions you should face is what SCADA really is? If we consider Wikipedia information, SCADA is an acronym for Supervisory Control and Data Acquisition. Generally speaking, it is a program running on a computer, communicating with PLCs installed in the field.
The system is additionally built of components such as:
Hardware 

Computers

PLCs/PACs/RTUs

Communication modules

IT infrastructure
Communication technology

Ethernet (profinet etc.)

RS232

RS485

Modbus

MQTT

OPC

DNP3

IEC 61850

IEC 60870

 
Software

Operator interfaces

Engineering interfaces

Communication software
SCADA has many tasks and functions, some of which must be fulfilled and some of them are added. 
Generally, we can separate SCADA functions:
Display and operate with system views (operator or operators can decide on activities throughout the entire production line from one place)

Display status and animations of motors, valves, sensors

Communicate and operating with PLC and all things connected to it e.g. motors, valves, sensors

Data logging of process values (e.g. temperature, pressures, positions)

Display trends ( printing, exporting)

Alarm logging (alarm, failure, error, event)

Display alarms (printing, exporting)

Control processes in local or remote localizations (some SCADA can me worldwide)

Allow operator to see malfunction in real-time

Reporting and printing specific data

Connection and operate with databases

Possible to integrate with MES and ERP

Long term history (Historian)

Integration with high-level languages (C#, .NET, JAVA, VBS)
It's a part of my ebook "SCADA… you must know before the first project". Check Amazon to read more from my ebook.  👇👇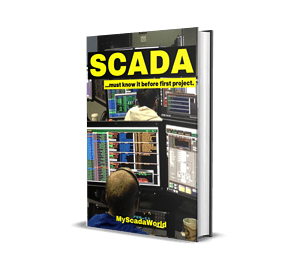 SCADA: you must know it before first project
Book and e-book available on Amazon.com
Check more in the YouTube video below: